Hydraulic Casing Puller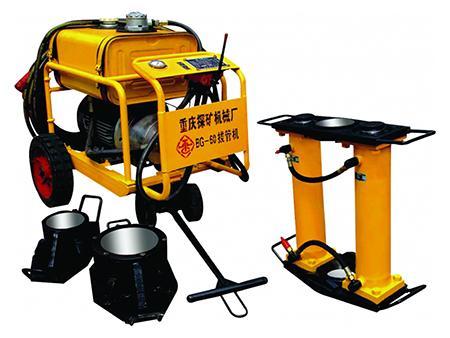 Introductions
BG-60A hydraulic casing puller is special equipment for pulling out casings inside the holes. It's suitable for cast-in-place pile construction, jet grouting drilling, small diameter drilling into large diameter concrete piles and casing drilling constructions.
Parameters
| | |
| --- | --- |
| Casing Pulling Diameter (mm) | Ф42~Ф108~Ф200 |
| Maximum Pulling Force (kN) | 600 |
| Oil Cylinder Piston Stroke (mm) | 500/300 |
Features
Hydraulic casing puller has strong pulling ability and wide adaptability range. It can pull casings of Φ42~Φ108~Φ200 with pulling force up to 600 kN and can also pull casings in inclined boreholes.
BG-60A hydraulic casing puller has long pulling stroke and high working efficiency. The pulling stroke of oil cylinder is 300mm.
It has simple structure, light weight, convenience for moving and ease of disassembly. The heaviest disassembly part of pump station (electric motor) is 144kg and the heaviest disassembly part of pulling machine (oil cylinder) is 88kg. It's specially suitable for overhead work.
It's convenient and flexible to operate. BG-60A casing puller can be controlled by only one control handle and the control console can be placed near the hole by changing the length of two oil pipes, which can bring great convenience to construction.
Pump station adopts flat frame structure with high utilization rate of space and proper proportion of length, width and height. It looks simple and bright, which shows good visual effect.
The main hydraulic components adopt the products of famous hydraulic component company and hydraulic oil adopts two-stage filtration method, which can ensure the reliability of hydraulic system.