Seafloor Drill Rig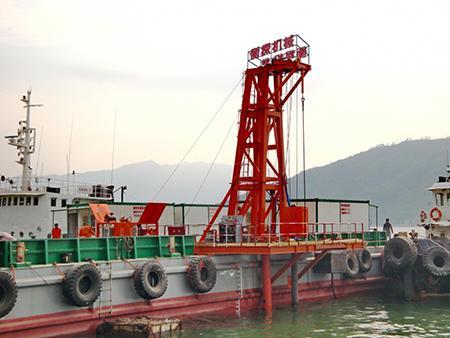 Introductions
Seafloor Drill Rig HD-500 is specially designed for marine geological exploration. It is suitable for various high efficiency drilling techniques such as diamond wireline coring, wave compensation directional drilling, continuous circulation coring and so on. The main body includes power system, hydraulic control system, drill rig components, power head feeding, hoisting winch, pull-up casing winch, wireline coring winch, hoist impact, power head, energy storage, mud transmission and blender system. Energy switching can be conducted easily at customers' will in accordance to the conditions at the construction site.
Parameters
Coring depth
Specifications and dimensions of the drill pipe
HC (Φ89)
Approximate drilling depth
500 m
Lifting ability of the winch
7.7 tons winch
Lifting ability
7700 kg
Lifting speed
40m /min
Dimensions of the cable
40m × 22mm
5 tons winch
Lifting ability
5000 kg
Lifting speed
40 m /min
Dimensions of the cable
50 m×18mm
2 tons winch
Lifting ability
2000 kg
Dimensions
150 m×14mm
Drill tower
Height
9m
Power stations
Model
4BTAA3.9-C1259 (Cummins)
Power
92KW
Rotational speed per minute
2000r/min, maximum 2200 r/min
Hydraulic system
Primarypump
160 L/min 25MPa
Secondary pump
64L/min 16MPa
Auxiliary pump
40 L/min 12MPa
Hydraulic cooling
Air cooled
Power head/ rotational speed of the drill shaft
Gear
Tier 1
Tier 2
Tier 3
Tier 4
Speed ratio
6.37:1
3.42:1
1.82:1
1:1
Rotational speed
110-188
206-350
387-658
705-1200
Torque
5800-3394
3097-1822
1648-969
905-532
Features
Adopts modular design and therefore can be detached or installed easily. It has strong drilling ability and high reliability.
The rig has a self-made 4-speed gearbox. It has high strength and easy for maintenance. Besides, it has wide range of speeds and can be manipulated continuously between 0-1200. In addition, it has large torque which is beneficial to the speed selection for various drilling processes involving diamond drilling as the main body.
It has spindle stroke of 6.5 meters which is beneficial in increasing the drilling efficiency. Fully equipped meters which allows visualizing and monitoring of parameters such as torque, pressure, oil temperature, power system and so on. Thus, the working process and drilling conditions of the equipment can be mastered to prevent as well as reducing the drilling accidents.
Key components such as hydraulic pump, motor, winch and main hydraulic components are from international well-know brand. The equipment has strong reliability. It has high standardization and generalization which is convenient for maintenance and cost saving.
The hydraulic system adopts the reliable new structure seals, hydraulically driven mud pump and mud agitator. Therefore, the drilling process does not require other auxiliary power.